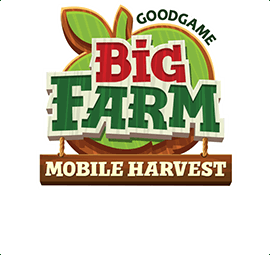 Big Farm: Mobile Harvest
Your new farm everywhere!
You always dreamed of a happy and peaceful life in the countryside? Big Farm: Mobile Harvest – your new farm everywhere! Build the farm of your dreams and discover new adventures on mobile. Plant, harvest, and take care of your lovely animals. Sell your crafted goods, build all kind of fields and stables and decorate your farm with stunning decorations. Live a cheerful life in the country and become close friends with all villagers and farmers from all over the world. Are you ready to turn your farm into a flourishing business and become the best farmer worldwide?
Become a successful farmer
Prove your economic skills in realistic production cycles
Plant, harvest and crop your field
Fulfill contracts and sell handmade goods on the organic market
Take good care for your chickens, cows and your other furry friends
Harvest year full of Events
Enjoy weekly quests and exciting challenges of the villagers
Help to organize fairytale festivals, go hiking or solve mysteries
Join tournaments where you can compete against other farmers
Enjoy the "community way of life"
Make your workers happy with stunning decorations
Become friends with Benny, Tessa and her friends
Be a part of the Big Farm: Mobile Harvest Community
Get social with the ingame blog and feedback tool
Be part of a cooperative to share tips & tricks and support each other
Downloaded the game and really enjoy it. One of the best farm games I have played
Farmer Joe Bing / Apple User
Its a real fun game u can chat with people
Demi Green / Google User
Love, love, love this game!! It is so addictive!! I find myself on here 6 or times a day!!
BECKY HEFNER /  
Stay connected

Tips & Support

For game-related problems and questions