GOODGAME STUDIOS COOPERATES WITH HUAWEI AND EXPANDS WORLDWIDE DISTRIBUTION
Goodgame Studios, a globally active developer and provider of video game software in the free-to-play sector, continues to expand its mobile game distribution and releases classic strategy game Empire: Four Kingdoms on the HUAWEI AppGallery.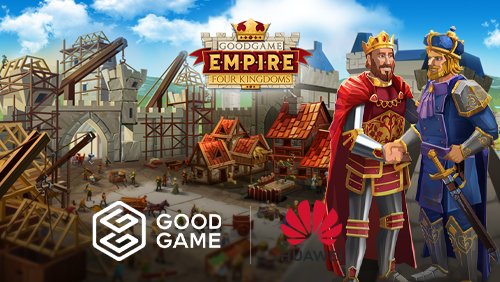 The Hamburg studio recently entered a cooperation with Microsoft, offering Big Farm: Mobile Harvest via Microsoft Store for Windows 10. The cooperation between Goodgame Studios and global technology leader Huawei marks another milestone for Goodgame's strategic product distribution. Empire: Four Kingdoms will soon join Big Farm: Mobile Harvest, which is already available on the HUAWEI AppGallery.
To kickstart the release, Empire: Four Kingdoms will offer new players lots of freebies. For instance, new players receive a mighty starter package consisting of a unique decorative item for their castle, troops for castle protection and a substantial amount of gold coins. In addition to that, players will receive coupons to purchase specific content at better prices.
"We are delighted to be cooperating with Huawei, a giant in the international high-tech industry. This collaboration creates the perfect symbiosis of our innovative, sustainable products and the strong growth of Huawei's app store, the AppGallery," states Patrick Abrar, Chief Business Officer at Goodgame Studios.
"HUAWEI AppGallery allows us to further expand our distribution for Empire: Four Kingdoms and to offer the game to a growing audience. Our game is a strategy classic, and owners of a Huawei device are going to enjoy countless hours of fun and excitement," says Benjamin Völkel, leader of the studio developing the game.
Empire: Four Kingdoms is part of the extraordinarily successful Empire Family with over 220 million registered users and is now available to download for free from the HUAWEI AppGallery. The game can also be downloaded via other Android platforms and the iOS App Store.