Murderous team building in ancient Egypt
Last Friday, the time had finally come: Our marketing team was getting ready for a teambuilding event of the special kind and it should be an exciting evening!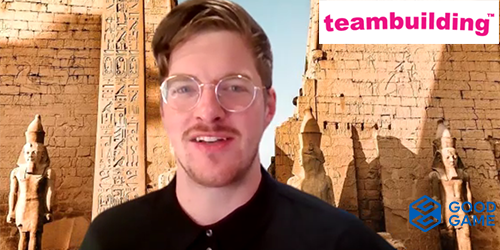 It all started in the early afternoon via virtual Zoom meeting, which was already organized by TeamBuilding. At the beginning we were able to get to know our two hosts of the evening, Erich and Ben, who joined us from the United States and England. The ice was quickly broken due to the friendly and pleasant nature of the two and the whole team was highly motivated to follow the upcoming interactive story entitled "Murder Mystery in Ancient Egypt".
After a short introduction of participants, we were divided into small groups, chose our individual roles and decided on a name for each team. Thus, the journey into ancient and mythical Egypt began: The Pharaoh was lynched (obviously) and the search for the murderer was afoot. Exciting tasks and exhilarating challenges awaited us to get to the bottom of the secret.
The teams completed each task as fast as possible to reveal clues on how the Pharaoh was murdered culminating in the decisive question after almost 90 minutes: Who had robbed the Pharaoh of his life? Two teams came closest to the answer and it was X$Y%Z (no, of course we will not reveal that here).
All in all, we had a lot of fun during the event and would like to thank our hosts of TeamBuilding for a wonderful afternoon experience.
About TeamBuilding
TeamBuilding offers virtual activities for companies worldwide that employees will surely enjoy. Currently, there are 19 unique activities available to choose from. All of them are specially designed for online team building. The events last about 90 minutes give or take and are organized via well known video messaging platforms. To learn more about TeamBuilding, please visit their website: https://teambuilding.com/