Hamburg,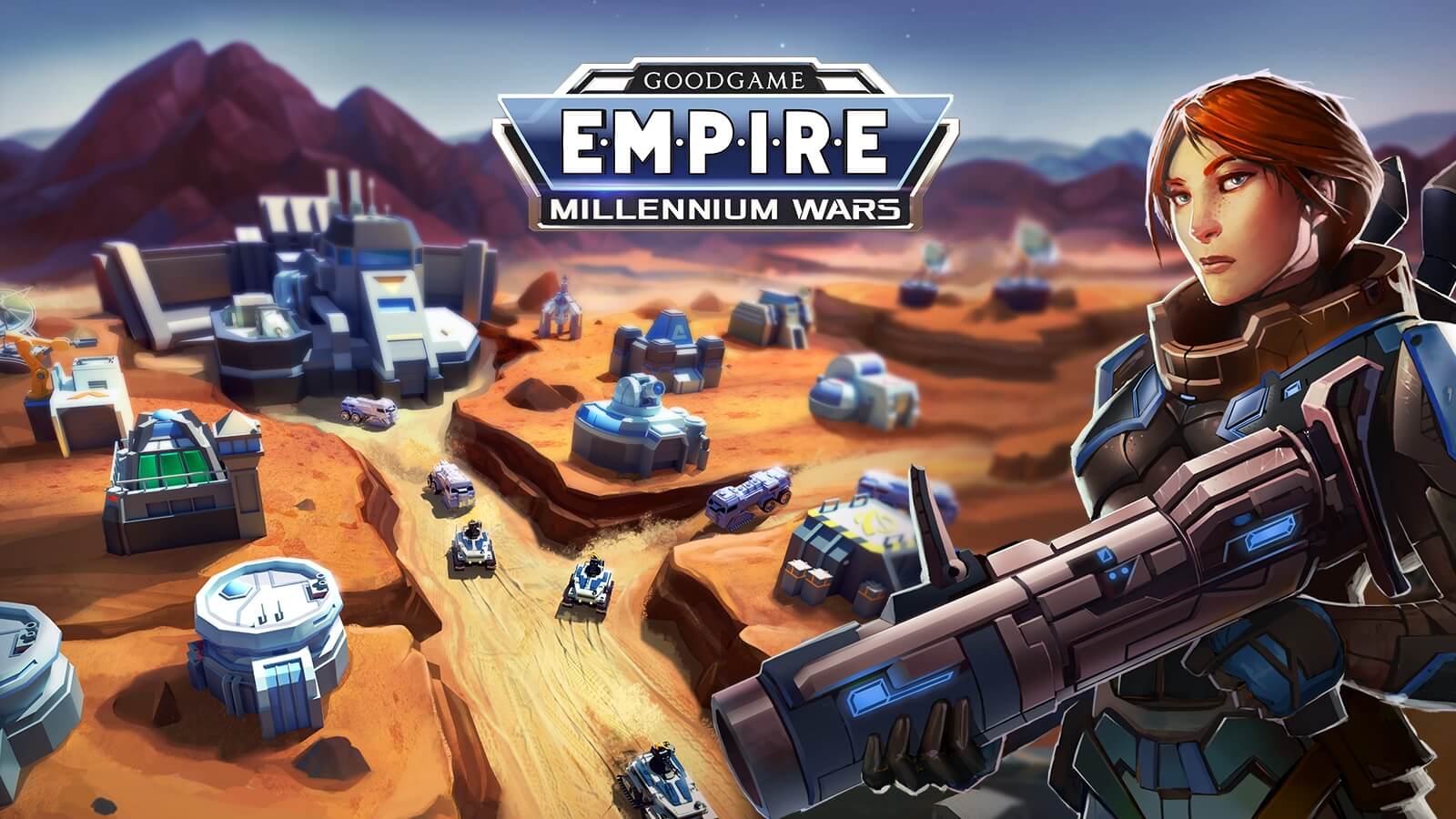 Following the release of its latest strategy game EMPIRE: Millennium Wars on mobile, Goodgame Studios is proud to announce the global release of its latest title on web.
The new game allows players to run their corporate mining empire on Mars, where they can compete against other players to ultimately rule the Mars Trade Federation. "We've built this version of the game from the ground up for web using the latest web technologies for the best browser coverage and performance" says Simon Andrews, Head of the studio responsible for developing the game. "EMPIRE: Millennium Wars is a great fit for web, and we will be adding lots of new and exciting content for our players over the coming weeks".
Goodgame has a track record for releasing highly successful web games including BIG FARM and its highly popular medieval strategy game EMPIRE, Germany's most successful game of all time and one of the top games worldwide.
"We are committed to providing our players with great new game experiences on web" says Jörgen Larsson, Stillfront Group CEO. "Our investment in leading web technologies such as html5 is a key component of our future product strategy".
EMPIRE: Millennium Wars is available via Goodgame's portal www.goodgamestudios.com
Hamburg,
Goodgame's beloved BIG FARM franchise sees a massive update to its mobile title BIG FARM: Mobile Harvest this month, presenting the largest feature update so far. The update will provide players with the ability to develop and build their own in-game Café & Store where they can cook and bake delicious meals with their farm produce, as well as the ability to sell self-produced items such as perfumes and souvenirs.
"This update continues a trend of regular, relevant updates for the game that have allowed BIG FARM: Mobile Harvest to see continuous performance gains since its launch in Q4, 2017" says Jörgen Larsson, CEO of the Stillfront Group.
The latest update will provide fresh and exciting content for new and veteran players alike. The addition of the Café and Store will add a new dynamic to the game giving players more options for their farm produce, but also providing them with even more entrepreneurial opportunities through running their new businesses in-game, and serving new customers. "BIG FARM: Mobile Harvest continues to be a shining example of what a new game launch should look like for our company" emphasizes Kai Wawrzinek, CEO of Goodgame Studios.
"Our ability to scale this game in a highly competitive market, combined with high quality updates for our players have resulted in significant revenue growth per quarter". "This update is huge for our growing BIG FARM Mobile community of 7.5 million players!" says Simon Andrews, who heads the studio responsible for developing the game. "I know our players will love the new Café & Store as it will give them even more opportunity to run their business and grow their farm".
BIG FARM: Mobile Harvest's big update will be supported globally by Google Play and will be accompanied by a major TV advertising campaign across 30 channels in Germany, Austria and Switzerland. In addition Goodgame has partnered with inSocial Media and Germany's most famous and influential YouTube superstar 'Bibi', from Bibi's Beauty Palace, who will be sharing and enjoying the Big Farm: Mobile Harvest update with her 5 million followers.
Hamburg,
A tournament of superlatives is beginning today in Germany's most successful strategy game, "Goodgame Empire". In addition to prizes worth almost 10 million euros, for the first time since the game launched seven years ago, players can also battle for a real, one-of-a-kind trophy: a sword made of Damascus steel, handcrafted especially for "Goodgame Empire".
Its virtual counterpart is the focal point of a several-week-long battle, which will determine the best Empire player in the world over the course of several rounds. Depending on where the victor is located, they will receive the sword in person or by special delivery to a destination of their choice. In order to satisfy the global fan community of "Goodgame Empire", an additional prize of an equally skillfully-crafted shield and thousands more prizes will also be given away.
Many hours of hard work have gone into crafting the sword in the workshops of YouTube channel "Awe.Me" in the USA. Their series, "Man At Arms: Reforged", shows viewers how to make famous weapons, from movies such as "Lord of the Rings" and shows like "Game of Thrones", and now "Fury's Blade" from "Goodgame Empire", too. As one of the largest and most influential YouTube channels around the world with 6.4 million subscribers, word is bound to spread.
Watch the making here:
Trailer (30 sec): https://youtu.be/DWMrr33PUTc
Full episode (18 min): https://www.youtube.com/watch?v=6y-NCYgTz5I
In Germany, YouTube stars "Flying Uwe" (1.2 million subscribers) and "Montana Black" (1.3 million subscribers) will also report on the unique event and themselves take a stab at winning the sword. Goodgame Studios itself will support the event with a comprehensive marketing campaign.
"This is the largest and most exciting event that we've ever had in Empire," says Nina Müller, who is responsible for the game's continued development at Goodgame Studios. "After months of preparation, we can finally let the cat out of the bag." Jörgen Larsson, CEO of the Stillfront Group, to which Goodgame Studios has belonged since the beginning of the year, is enthusiastic: "Large community events make the difference in online games these days. I am convinced that this will give Empire and the whole group a further boost."
Hamburg,
Goodgame Studios is proud to announce that its newest game, EMPIRE: Millennium Wars, is now available globally on iOS and Android. The game is a new addition to Goodgame's portfolio under the EMPIRE brand, and will sit alongside EMPIRE and EMPIRE: Four Kingdoms. The first game under the EMPIRE brand was launched in 2011, and the EMPIRE brand has generated more than 880 million USD in user spend since.
EMPIRE: Millennium Wars will provide a new and unique experience that will allow players to build their corporate empire on Mars, where they can compete with other players to dominate the mining industry of Mars and use any means necessary to crush their rivals and ultimately rule the Mars Trade Federation.
This marks the second new major game release from Goodgame within the last six months. The Q1 2018 release of EMPIRE: Millennium Wars follows the highly successful launch in Q4 2017 of Goodgame's BIG FARM: Mobile Harvest. The launch will be a ladder launch, meaning a step-by-step approach.
"Goodgame's EMPIRE brand is one of the most valuable brands within strategy games worldwide. Thus, expanding the brand is a logical step with lots of potentials," says Jörgen Larsson, CEO of Stillfront. "After the recent success of BIG FARM: Mobile Harvest I'm very optimistic on this upcoming launch."
"The feedback so far has been extremely positive", says industry veteran Simon Andrews who is leading the studio responsible for EMPIRE: Millennium Wars. "The massive amount of pre-registrations was way beyond our expectations and makes me even more eager for seeing the game released globally."
Hamburg,
Today starts a new era in the history of the German gaming developer Goodgame Studios. "We are very proud to announce the merger of Goodgame Studios with Stillfront Group, which is listed on the Nasdaq First North Premier stock exchange," says co-founder and CSO of Goodgame Studios, Dr. Christian Wawrzinek. "Once the transaction is approved by the Stillfront Group's shareholder meeting in January 2018, Goodgame Studios can be publicly traded indirectly for the first time."

In this merger Stillfront Group AB, located in Stockholm, Sweden, will acquire Goodgame Studios, which is much larger than Stillfront in terms of turnover and profit. As part of the transaction, the current shareholders of Goodgame Studios will receive about 40 per cent of the shares and voting rights of the combined company. Consequently, the founders and managing directors of Goodgame Studios, Dr. Kai and Dr. Christian Wawrzinek, will become the major shareholders of the Stillfront Group and both will remain managing directors of Goodgame Studios. In addition, Dr. Christian Wawrzinek is proposed to be elected as new member on the Stillfront Board of Directors. For the purposes of the transaction, Goodgame Studios has been valued at 270 million Euros.
"We managed to turn things around in 2017 and are now very profitable. In the first nine months of 2017 we achieved an EBIT of 22 million Euros." says Dr. Kai Wawrzinek. "Together with the other studios of the Stillfront Group, we want to pursue our shared vision of creating a gaming company of global importance. Being listed on the stock market provides the flexibility that we require for our plans. Our future looks bright."
Following recent changes at Goodgame Studios, it is paramount to the founders to provide stability: "No personnel changes are planned at Goodgame Studios. The subsidiaries of the Stillfront Group are run autonomously and Goodgame Studios will also remain as it is today." Additionally, they see strong synergies on the know-how level. "The games developed by the Stillfront Group's studios fit perfectly with our extensive marketing know-how and our global distribution network consisting of many thousands of partner websites."
Last month Goodgame Studios broke through the all-time turnover (User Spend) ceiling of one billion (USD). The company has been given a further boost by successfully launching its new hit game, Big Farm: Mobile Harvest, achieving 2 million registrations in 4 weeks.
Hamburg,
"EMPIRE" and "BIG FARM" are the names of Goodgame Studios' most successful mobile and browser games with over 340 million registered users. With a turnover of USD 1 billion, the German games forge, Goodgame Studios, is making a return to the top ranks of the gaming industry. This is an achievement "made in Germany" that is also causing a stir in the international gaming world. The two creative minds behind the company – founders and managing directors Dr. Kai and Dr. Christian Wawrzinek – thank their team for this success and they are confident: "EMPIRE and BIG FARM in particular are a remarkable success for Goodgame Studios and we can do more. The gaming industry still has huge potential. For our employees and for us, reaching this milestone is both reason to celebrate and an incentive."

As the managers of one of Germany's biggest gaming companies, the Wawrzinek brothers often found themselves in the same position as their players on their way to making a million: seeds that were sown did not always germinate; patience, fighting spirit and lots of strategic skill were necessary. After a phase of enormous growth in 2014 and 2015, they managed with blood, sweat and tears, tough cutbacks and restructuring in 2016, to get Goodgame Studios back on course in 2017. "It was absolutely essential for us to focus again fully on our core brands of EMPIRE and BIG FARM," says Dr. Christian Wawrzinek. "Only in this way were we able to achieve turnaround, and we are now once again on a course of growth." The successful launch of the mobile game "BIG FARM: MOBILE HARVEST" underlines this statement. In less than one month, the game has been installed over 2 million times worldwide.
In the fantastic world of BIG FARM, one can only become a successful farmer with business skills, the right strategy and a strong community – and those are the principles to which the team at Goodgame Studios also adhere when it comes to continuing the company's steep upward curve in the future.